Posts Tagged 'Farley's Pocket Tones'
It is fun to sing Singable Picture Books along with a playful tune.
There's nothing like a kazoo for adding some whimsy to your Singable Picture Book experience. If your sing-along track has an instrumental break, or if a song refrain is repeated more than once, just pull out a kazoo and hum along. The kids will LOVE it!!
A good ol' plastic kazoo works perfectly well. At  WWW.Kazoos.com, you can find kazoos from the very basic to the fancy and outrageous.
Wind up music boxes make charming accompaniment.  You can find these little gems playing many Singable Picture Book tunes including "Over the Rainbow," "Twinkle Little Star," and "Row Your Boat":
The picture is of a model made by the Schylling company.  But there are many.  Google a little and find a few.

Over the Rainbow
Words and Music by Harold Arlen and E. Y. Harburg
Illustrated by Eric Puybaret

The Fisher Price TV-Radio plays "Farmer in the Dell."  Since the song repeats the same musical phrase, it is perfect for singing along with the book!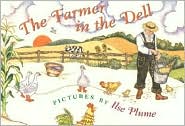 Farmer in the Dell
Traditional Words and Tune
Illustrated by Ilse Plume
You can always sing a capella! To make sure you start on a note that will keep you in a comfortable vocal range, you're going to need a pitch pipe.  Many people use the classic Kratt Master Key Pitch Pipe, but I bought one and a few of the notes were clogged up.  So, I went and found an electronic one.  It may not be quite as elegant, but just press the button and the pitch will always be there:
I absolutely LOVE my Farley's Pocket Tones: Chromatic-C.
You can use the notes to experiment with a first pitch for any song you would like to sing a capella. If the song goes to high for your voice, start on a lower note. If the song goes too low, start on a higher note. Once you find a starting note that keeps the song in a comfortable vocal range, write it on a post-it and put it in the inside cover of the book to help you remember. Next time you sing that books with your favorite child, just pull out your pocket tones, press the button to hear the right note and sing your head off!
You can find this pitch pipe on amazon.com, by clicking here: http://www.amazon.com/Farleys-PT-15-Pocket-Tones-Chromatic-C/dp/B0009K5268/ref=sr_1_8?ie=UTF8&s=musical-instruments&qid=1264691220&sr=1-8
Schylling also makes beautifully painted tuned hand bells.  A bell makes for a delightful way to find that first note: