Posts Tagged 'Etienne Delessert'
This treasure of a book came in the mail today.
Etienne Delessert's pictures illustrating Joe Raposo's iconic song "Being Green" are fantastical, weird, exciting and fun.  Maybe a little disturbing but the strange beasts draw you into their world and you want to see more…and you want to sing the song.
"Being Green," is a wonderful song for children, wistfully pondering the question of being and why one is what one is, and ultimately delivering the message that you are just right the exactly the way you are.  It reminds me of "The Little Elf," but with a strong dose of existential wonder in it and wrapped in a lovely melody.
*


Being Green
Words and Music by Joe Raposo
Illustrated by Etienne Delessert
A page from the book…
The end papers of the book (published in 1973) says that "Raposo and Delessert have combined their talents on…an animated film based on the background characters of this book, to the sounds of Sinatra singing 'Bein' Green.' See it on Sesame Street.  I used every word I could think of to search for this short film, but found nothing.  That would be some groovy thing to see!!
**********************
*
Kermit (Jim Henson) singing "Being Green" in 1969, the original version on Sesame Street

*
Kermit sings an inspired "Being Green" with the late great Lena Horne:

(added to post May 15, 2010)
*
I like this video, too:

http://www.youtube.com/watch?v=z4ZxxHbJGbY
**********************
Another illustration of this song is published by Hal Leonard,

Bein' Green (Sing-A-Song Storybook)
Words and Music by Joe Raposo
Illustrated by Mario Macari
This version is about a young dragon coming to terms with who and why he is.  No crazy monsters here.  Macari's illustration is more accessible and cartoon-like (and the kids love it), but I can't help being especially drawn to Delessert's creative and colorful pictures.
Sinatra singing "Bein' Green" here:
http://www.amazon.com/Bein-Green-Frank-Sinatra-Collection/dp/B001UF2S1I/ref=sr_1_1?ie=UTF8&s=dmusic&qid=1273103625&sr=8-1
My personal favorite version is by the great Shirley Horn:
http://www.amazon.com/Being-Green/dp/B000W1XGG2/ref=sr_1_fkmr0_1?ie=UTF8&qid=1273106490&sr=8-1-fkmr0
Sing-along with a karaoke track 1:
http://www.amazon.com/gp/product/B00388LXK2/ref=dm_ty_trk?ie=UTF8&qid=1273104271&sr=8-1
This one is serene and gentle, lovely.
Sing along with a karaoke track 2:
http://www.amazon.com/gp/product/B003CPR4ZE/ref=dm_ty_trk?ie=UTF8&qid=1273104640&sr=1-32
This one is dramatically orchestrated at times.  It is also fun for singing along, but a whole different experience.
The printed sheet music for this song can be found on pages 7-9 of,


The Sesame Street Songbook –
64 Favorite Songs
Featuring Songs and Arrangements by Various Artists
Illustrated by David Prebenna
**********************
Being Green
Words and Music by Joe Raposo
It's not that easy being green
Having to spend each day the color of the leaves
When I think it could be nicer being red, or yellow, or gold
Or something much more colorful like that
It's not easy being green
It seems you blend in with so many other ordinary things
And people tend to pass you over
'Cause you're not standing out
Like flashy sparkles in the water
Or stars in the sky
But green's the color of spring
And green can be cool and friendly-like
And green can be big like a mountain
Or important like a river
Or tall like a tree
When green is all there is to be
It could make you wonder why
But why wonder why wonder
I am green, and it'll do fine
It's beautiful, and I think it's what I want to be
**********************
Related Posts
*
FAVORITE SINGABLES
Of the hundreds (maybe thousands) of choices, this list onPinterest displays the top blockbuster favorite Singable Picture Books that we warble together at Sing Books visits:
http://pinterest.com/singbooksemily/
I'm not familiar with all of these yet…but they just came in the mail.  YAY!
The Friendly Beasts (an old English Christmas Carol)
Traditional words
Traditional tune
Illustrated by Tomie dePaola
(This book has sheet music in the back)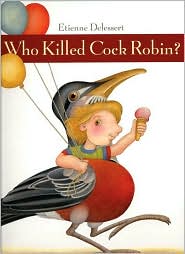 Who Killed Cock Robin
Traditional words
Traditional tune
Illustrated by Etienne Delessert
Them Bones
Traditional tune
Traditional words
Illustrated by Ian Dicks
(This books folds out to become a 4.5 foot tall skeleton.  Sing to the tune of the spiritual "Dem Bones")