Archive for February 22nd, 2010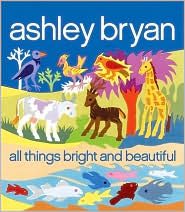 All Things Bright and Beautiful
Words by Cecil F. Alexander (based on)
Illustrated by Ashley Bryan
 
All God's Critters
Words and music by Bill Staines
Illustrated by Kadir Nelson
This morning I was blessed with the privilege to sing at the CommUnity on the Hill worship service (http://www.unitychurchdc.org/). 
My dear friend Byron invited me to sing and it was a wonderful experience. 
The pianist who was initially going to play had to suddenly leave town due to a death in the family.  I had been planning to stand up and sing "All Things Bright and Beautiful" and "All God's Critters," so instead of singing solo with the piano, I sang with my sing-along tracks and books.  I even ended "All God's Critters" with the usual kazoo solo for the second refrain.  Wow!  That was so fun.  I wondered how many people could proudly say that they got to kazoo at a church service.  It was a special opportunity to share with an assembly of adults the idea and joy of singing books to children.  It was especially meaningful to sing songs with an uplifting spiritual message for a gathering of warm, supportive and open-hearted people.
The Unity congregation invited Swami Vidyananda as the guest speaker.  She spoke about connecting, peace, and achieving true happiness through selflessness and service.  I don't have the vocabulary right, but her very presence exemplified her message and she shared a technique for meditation and connecting to the higher power. 
I believe that music and song (and sharing Singable Picture Books with children) brings people together, builds common experience and understanding, and provides an opportunity for people to be of service to one another… singing a song to a child, or to anyone, with honesty and love, is an act of giving.